Dublin Womens Soccer League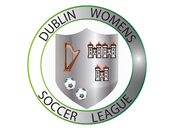 Dublin Womens Soccer League
Dublin Womens Soccer League
Hi Everyone,
The new 2018 season is nearly upon us and the Dublin Women's Soccer League are looking to improve our communication and results service. We will be setting up a results only email address that clubs can forward on their latest games. This will come straight to the website and can be updated by myself hopefully within a day so our League Tables will be right up to date.
Can clubs send in their results to dwslresults@gmail.com
More information at our fixtures meeting on Wednesday 16th. at 7:30 pm in Wynn's Hotel, Abbey Street.
Cup draws will also be held at this meeting.
Contact List
Website Administration
dwslresults@gmail.com

League Administration
info@dwsl.ie
016270715

Weather

13 MPH NNW
39% humidity
Thu

16°C
6°C
Fri

18°C
9°C
Sat

20°C
9°C
Sun

18°C
10°C